Snigel.nu
The main purpose of this website is to be my window to the digital world. I write relatively often, and even though it's mostly for my own sake, I am confident that some of the material I publish will benefit somebody else. Furthermore, like all other human beings, I enjoy feedback on things I create. Also, it is sometimes very convenient to have large quantities of information online as reference material at a moments notice. If you visit my website infrequently, I suggent you check the category named personal, since it contains the most important changes in my life.
Contens of the about page
About me
Site information
Rating system
Contact information
Credits
Site-related news
About me
This will sound somewhat like a presentation held in a class of beginners studying a foreign language, but if one wants to be concise and to the point, that's the way to go. My name is Olle Linge, I was born in 1984, and I'm from a town in Sweden called Linköping. I have a degree in teaching English and Chinese and, I'm currently living in Taiwan, studying for a master's degree in teaching Chinese as a second language. Generally speaking, I'm fairly active and my spare time interests vary from writing and role-playing to gymnastics, diving and other physical activities.
Apart from that, I invite you to browse this site. I have published more than a thousand articles on different topics, and I'm confident that these bear better testimony to the person I am than might any further elaboration here. Here'se a brief overview of my educational background:
2012-, Taipei, Taiwan: I'm currently enrolled in the master's degree program Teaching Chinese as a Second Language at National Taiwan Normal University. I plan to graduate in 2014 and my studying is supported by the Taiwan Scholarship
2010-2012: Linköpng University and Lund University, Sweden: Completing a Master of Education degree, including more Chinese, English, education science as well as actual teaching of Chinese and English in senior high school.
2008-2010, Xinzhu/Gaoxiong/Taibei, Taiwan: Full-time Chinese studies at universities and language centres, advancing from knowing basic Chinese to being close to fluent both in oral and written communication. My studying was supported by the Huayu Enrichment Scholarship.
2004-2008, Linköping University, Sweden: Teachers' education, combining psychology, English, Chinese and education science to give me a base from which to develop.
2000-2003, Berzeliusskolan, Linköping, Sweden: Bilingual high school education with focus on natural sciences and languages gave me a solid foundation in scientific reasoning as well as the English language.
Bibliography (selected)
Linge, Olle. 2012. Third Tone Instruction in Standard Chinese : Teaching the Third Tone as a Low Tone to Beginner Students . C-level thesis. . Linköping: Linköping University. Also available online.
Linge, Olle. 2011. Teaching the third tone in Standard Chinese: Tone representation in textbooks and its consequences for students. C-level thesis. Lund: Lund University. Also available online.
Linge, Olle. 2011. Magneter och mirakel. Linköping: Kaleidoskop. ISBN: 9789174372090. More information here (in Swedish/English).
Linge, Olle. 2008. Tornet mot stjärnorna. Skövde: Rävsvans förlag. ISBN: 9197460354. Available on Lulu.
Linge, Olle; Ackerfors, Martin. 2008. Nostalgi. Linköping: Kaleidoskop. Second version in English planned.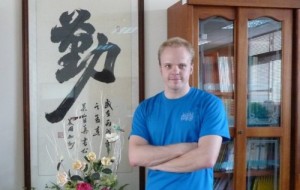 Photo taken in 2010 at 文藻外語學院.
Site information
This site was launched in April 2004 and has been frequently updated since then. The site is powered by WordPress and the current design is based on the Tarski theme, but the current look is still of my own devising. I also use a number of plugins for Wordpress, namely Akismet, CCL, CPL, Post-plugin Library, Recent Comments and Wordpress Database Backup. The calligraphy to the left is Chinese for "Cloud Dragon Playing in Water", referring to my Chinese name and blog.
In the beginning, I wrote mostly in Swedish. Since then, things have changed for various reasons, and since the summer of 2007, I write exclusively in English. This is primarily to allow me to hone my second language skills. Of course, this also means that I'll reach more people. I'm truly sorry if this is confusing, but considering that most Swedish people know some English, the website should be navigable regardless of language preference.
Rating system
I use a ten point grading scale, varying from zero snails to five snails, half snails (although deplorable) included. The scale pivots around three snails, which is equivalent to an experience which I thought was worth the time. Of course, a quantitative grade isn't worth much without the qualitative review, but it should give the reader an overall idea of what I thought about the experience in question. Here are some examples:
Horrible, unworthy and disgusting

Not entirely devoid of meaning

Good, worth the time

Excellent, I recommend it

Antennae vibrating with pleasure
Contact information
If you want to say something, feel free to contact me even if it's just to say hello. If you have comments in general, kindly use the guestbook or send an e-mail. I can be contacted in a number of ways and normally I should be able to reply within 24 hours.
If your're of the talkative persuasion, ICQ (5138085) or MSN (olle [at] linge [dot] se) might be your preferred choice. Otherwise e-mail works fine (same as above) or you can contact me on IRC (#endless on Quakenet or #rpgonline on IRCnet). I would also be delighted to be contacted in any para-normal way.
Credits
First and foremost, I would like to thank Hannes for hosting my site, as well as providing technical support. I would also like to thank my calligraphy teacher, 鄭國瑞, who was kind enough to write me the characters displayed on the left. In addition to this, there are lots of people who deserves my gratitude, but by starting listing people who have contributed, I risk leaving somebody out. I'm sure these people know that I'm grateful. Also, even though my primary goal is not to have many visitors, feedback in any way (mostly through comments) make me happy, so credits to everyone who contributes to Snigel.nu by making me happy.
Site-related news
Here is a comprehensive list of previously published news relating to this website. I don't know about you, but I feel a little tinge of nostalgia when I read the older ones.
Published in this category
---
2014-06-12:
I have spoken more Chinese than English in my life so far
2013-03-25:
Novel writing: Babel revisited
2012-03-29:
Snigel.nu restored after server crash
2011-06-24:
Towards a more personal website
2011-01-04:
Site statistics for 2010
2010-09-19:
WordPress upgraded to 3.01
2010-07-24:
What has been going on and what will happen
2010-02-27:
26 years and counting
2010-01-04:
Site statistics for 2009
2009-09-29:
Back on track
2009-08-23:
Snigel.nu has been tagged
2009-07-18:
The new design
2009-07-17:
One thosand posts
2009-07-02:
WordPress updated to version 2.8
2009-01-10:
Site statistics for 2008
2008-12-08:
Where cloud dragons play
2008-10-07:
Internet and computer troubles solved
2008-10-03:
Linux, Windows and Chinese
2008-06-14:
Borrowed camera
2008-05-20:
Snigel.nu in the local press
2008-01-11:
FeedBurner
2008-01-04:
Site statistics for 2007
2007-11-26:
New Chinese section launched
2007-09-19:
RSS feed updated
2007-09-15:
Back in business
2007-08-15:
Server migration
2007-07-21:
WordPress upgraded to 2.2.1
2007-07-20:
Post structure updated
2007-07-19:
Omstrukturering av Snigel.nu
2007-07-02:
RSS feed
2007-04-01:
Donation!
2007-01-16:
Statistik för 2006
2006-12-06:
Sidan uppe igen
2006-10-05:
Servern tillbaka och språkplaner
2006-09-17:
Minimal uppdatering
2006-08-09:
Ett ton spam i nätet
2006-08-02:
Serveruppdatering
2006-06-13:
Get detailed statistics working for www.snigel.nu
2006-05-30:
Små justeringar
2006-05-30:
Guestbook
2006-05-03:
WordPress 2.0.2
2006-05-01:
Spam
2005-08-07:
Sidan uppe igen
2005-06-08:
WordPress rullar
2005-05-03:
Snigel bygger om
2005-03-01:
WordPress och servermigration
2005-01-11:
Igång igen, eller?
2004-11-26:
Skaffa aldrig, aldrig 99kornor.com som webhotell
2004-11-09:
Psykologi på www.snigel.nu
2004-11-06:
Hjälp Snigel!
2004-09-27:
Ordning och reda, eller?
2004-09-21:
Ursäkta röran, jag bygger om
2004-06-08:
MovableType
2004-05-16:
Uppdateringar och 50-årsfest
2004-05-08:
Många bäckar små
2004-04-30:
www.snigel.nu
Admin login